HGTV's Junk Gypsies
Appearing live on the Fresh Ideas Stage Friday, February 3 at 2 pm and Saturday, February 4 at 11 am
After graduating from Texas A&M, sisters, Amie and Jolie Sikes, and their mom, Janie, started the Junk Gypsy Company with big dreams, a love of the open road and a slight flea market addiction. Staying true to themselves, the Sikes family has built a successful business that beckons to the free spirit and dreamer in everyone.
In addition to designing everything from apparel to jewelry to custom furniture, the gypsies have also been called upon to create spaces for country music artists and Hollywood stars such as Miranda Lambert, Dierks Bentley, Billie Joe Armstrong of Green Day, Marcus Luttrell and Sadie Robertson to name a few.
You may have seen their hit series, Junk Gypsies, on Great American Country and HGTV, followed by their HGTV web series titled "The Find & The Fix" on Facebook as well as "That Junk Gypsy Life" on HGTV's digital.
Most recent projects include their whole sale line "Road Collection by Junk Gypsy" along with exclusive lines for QVC, Pottery Barn Teen, Pottery Barn Kids, Junk Gypsy boot line, their own boutique hotel - The Wander Inn and their first JUNK GYPSY book with Simon & Schuster that quickly became a New York Times bestseller. he Junk Gypsy World Headquarters is located in Round Top, Texas (population 90) where their 7500 square foot flagship store is located. They refer to it as the store the "junk" built and is a destination for thousands of junkers and shoppers year-round.
For more information about The Junk Gypsy Company and the Junk Gypsy store in Round Top, Texas visit www.gypsyville.com.

Albert Gonzales Art
Albert Gonzales is a post-contemporary artist based in San Antonio, TX. He is heavily influenced by post- WWII artists like Jackson Pollock, Keith Haring and Jean-Michel Basquiat, but also draws inspiration from the masters like Henri Matisse and Van Gogh. With this broad range of inspirations, Gonzales's fine art approaches are visual experiments within composition, style, and technique. From abstraction to still life to portraits, his art can span multiple genres. With bold color palettes, his often "outrageous" paintings are fun and unpredictable. As a great commentator on his own art style, his showmanship brings forth the passion for his art and his need to create. His audience is able to see and feel his dearest dedication to craft. With his paintings, he hopes to reflect a feeling of liveliness and compassion for the love he has for the visual arts. Gonzales wants the audience to feel this feeling if only for a second; but touched and moved for a lifetime. Albert Gonzales's accolades include the "Step Inside My Mind" solo exhibition; "Voz" group exhibition at the Centro De Artes with UTSA; Featured artist in Coca-Cola March Madness Music Festival; artist participant in a city- wide art project for a non-profit organization titled, Clarity in the Pin Wheels for Change campaign where he painted alongside 16 other internationally and nationally renowned artists; Featured artist "Luminaria" 2019 art festival. Having sold over a hundred paintings in one year, Gonzales's list of prominent collectors and collections include the acquisition of seven paintings into the UTSA Art Collection by the invitation of Dr. Ricardo Romo. Gonzales has also donated artwork to the UTSA Alumni Gala and the Susan G. Komen Foundation. Best known for his simplistically minimal abstract flower paintings, Gonzales gives voice to the new and upcoming generation of artists of San Antonio.
Artwork available for purchase: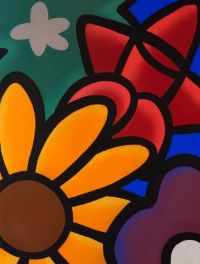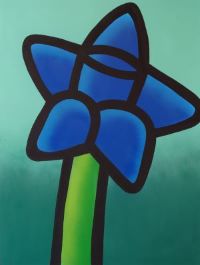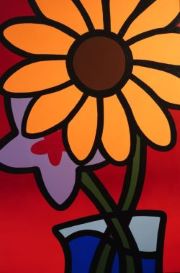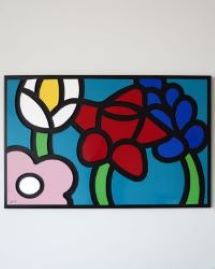 social media: instagram\@trebla_art

Deshun Baker - Deluxe Windows
After being an educator, I decided to step away and pursue my degree in Architecture. I'm currently an Architectural Consultant for a commercial interior manufacturer. I consider myself a great leader therefore being an entrepreneur and business owner came to me a lot easier than others. Being an athlete, coaching, teaching, and now business owner has giving me a great mindset for success. I'd say I specialize in sales, customer service and problem-solving. I'm known for leading others and creating opportunities. I'm mostly proud of being able to support my family and provide jobs for those on our team. Having a passion for perfection sets me apart from others.